THE POET LAUREATE OF THE SOUTH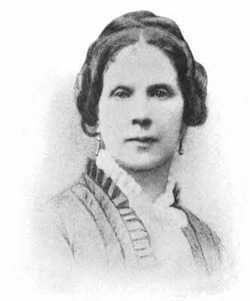 Margaret Junkin Preston
Margaret Junkin Preston (19 May 1820 - 28 March 1897), poet and writer, was born in Milton, Pennsylvania, the daughter of Rev. George Junkin and Julia Rush Miller. A Presbyterian minister, her father was called to Easton, Pennsylvania, in 1832 to assume the presidency of the newly established Lafayette College. As a child, Margaret was tutored by members of the Lafayette faculty as well as her parents. Dr. Junkin became president of Miami University in Oxford, Ohio, in 1841; three years later, he returned to Lafayette. In 1848, having accepted the presidency of Washington College (later Washington and Lee University), he moved his family to Lexington, Virginia.
Training her eyes by sewing and reading, Margaret Junkin had seriously impaired her vision by the time she was twenty-one. Nevertheless, after the move to Lexington, she began to publish poems and stories in newspapers and magazines. In 1856, she published anonymously Silverwood: A Book of Memories, a novel that satirized the emphasis Virginians placed on ancestry. The following year, she married Major John T. L. Preston a widower with seven children, who helped found the Virginia Military Institute and taught Latin there. Margaret's sister Eleanor married Major Thomas Jonathan Jackson, later famous as "Stonewall" Jackson, who was professor of mathematics at the Institute. Margaret and John Preston later had two sons of their own.
Preston's family, like many others, was divided by the Civil War. Dr. Junkin was forced to resign the presidency of Washington College in 1861 because of his Unionist sympathies. Although Major Preston opposed secession, he went along with Virginia and served under Stonewall Jackson; Margaret Preston shared his political views. Espousing the southern cause, she wrote some of the most popular verse in the Confederacy.
In the intervals between housekeeping duties, Preston kept a wartime diary, which became the basis for her second book, Beechenbrook: A Rhyme of the War. Her husband, now a colonel, had an edition of 2,000 copies printed in Richmond in 1865. Most of this edition was destroyed during the burning of Richmond. The work sold over 7,000 copies when it was republished in Baltimore in 1866. After the war, the Prestons were reunited. John Preston returned to his professorship at the Virginia Military Institute, a position he held until his retirement in 1882. During Reconstruction, Margaret Preston continued to combine the roles of housewife, mother, and poet. She published poems and reviews in southern magazines and newspapers and even in such northern magazines as Lippincott's.
Margaret's tribute to 'Stonewall'
Jackson. A Sonnet
Thank God for such a Hero!--
Fearless hold
His diamond character beneath the sun,
And brighter scintillations, one by one,
Come flashing from it. Never knight of old
Wore on serener brow, so calm, yet bold,
Diviner courage: never martyr knew
Trust more sublime,--nor patriot, zeal more true,--
Nor saint, self-abnegation of a mould
Touched with profounder beauty.
All the rare,
Clear, starry points of light, that
gave his soul
Such lambent lustre, owned but one sole aim,--
Not for himself, nor yet his country's fame,
These glories shone: he kept the clustered whole
A jewel for the crown that Christ shall wear!
---
The above article appeared in the ACWS Newsletter, Autumn 2013