History Alive!
About ACWS
The American Civil War Society (ACWS) was formed in 1975 and has been going from strength to strength ever since. We have strong connections with American Civil War re-enactors from all over the world. The Society provides an absorbing hobby for its members, excellent entertainment for its audiences and a focal point for the weekend events and venues where it appears. We aim to give an exciting, colourful, noisy spectacle that we hope is both enjoyable to watch as well as being very informative.
The ACWS is essentially a historical society, with many members acknowledged as experts on the history of the period who give talks to schools, colleges, and other organisations. ACWS caters for all interests in the subject from military modelling to music of the period and live shooting period black powder weapons. ACWS offers people the opportunity to experience 'living history' in the form of battles, displays of period medical techniques, authentic camps, civilian life, military drill and the portrayal of period events.
The ACWS is the largest American Civil War re-enactment society in the UK. Members are drawn from all walks of life and come from all parts of the country. The society is essentially a nonprofit making organisation and attendance at events by members is on a purely voluntary basis.
Over the years we have helped to raise money for various charities acting as the focal point for shows. We have attended fetes, carnivals, stately homes and organised events all over the country.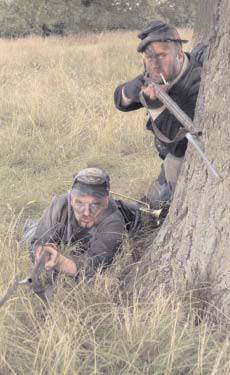 Previous clients vary from the British Army of the Rhine, Zeneca and Staffordshire Tableware to many stately homes including Castle Howard, Knebworth and Eastnor Castle. We have worked with English Heritage, The National Trust, numerous City and District Councils and film companies, appearing in films, historical drama, educational and training videos. Members can regularly be seen on the History and Discovery Channels and have taken part as extras in films such as 'Gettysburg', 'Glory' and more recently 'Gods and Generals'.
In addition to the military uniforms we have many members dressed in a variety of clothing and portraying various civilian roles around the authentic tented camp. All this comes together and creates a wonderfully atmospheric backdrop to our events.