Marie Tepe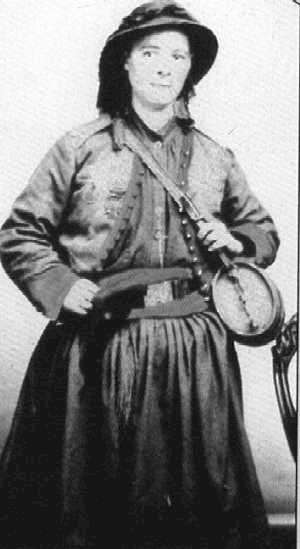 The item 'One for the Ladies' appeared in the August Newsletter and it seems that the officer who remembered the vivandiere in the trench was mistaken in his recollection of her name. She was in fact Marie Tepe (or Tebe) who at that time was serving with the 114th Pennsylvania Volunteers (Collis' Zouaves). A French immigrant she married a Philadelphia tailor called Bernardo Tepe and followed him into the army when he enlisted in the 27th Pennsylvania Volunteers. Later at the request of Colonel Charles H T Collis she joined Collis' Zouaves and saw out the war with that regiment. She received a bullet in the ankle at Fredericksburg and after the battle was awarded the Kearney Cross, a gallantry award in memory of General Philip Kearney which was restricted to the troops serving in the Union Third Corps.
French Mary as she was known, is said to have been present at thirteen battles including Spotsylvania where she came to the notice of that officer of the 8th Ohio but she survived the war. It is probable that the pain of her war wound contributed to her suicide in 1900 at the age of fifty-one.
The above information came from the Osprey book American Civil War Zouaves (#62 in their 'Elite' series) and it also contains a photograph of 'French Mary' which may be of interest to any re-enactor's wife who feels like following her example and joining the colours.
Yours sincerely
Pvt. Leo Cullinan, 19th Indiana
---
The above article first appeared in the ACWS Newsletter, December 1999