TRIBUTE TO WAR HERO
THE heroism of a former Old Trafford resident during the American Civil War was remembered at a special ceremony. Philip Baybutt's bravery remembered as a special headstone bearing his name was unveiled at Southern Cemetery, Chorlton, in September.
He was the first British person to be awarded the Congressional Medal of Honour, America's highest award for gallantry.
He went to America in 1864, intending only to visit his brother, but enlisted in the Union Army to fight in the Civil War, as a member of the 2nd Massachusetts Cavalry.
He chose this trade because he was a teamster, driving carts, back in Manchester, and so he was used to dealing with horses.
It was whilst as a cavalryman that he fought in the Battle of Yagers Mill, in Virginia, on September 24, 1864. That resulted in him winning his medal. Click here for more details
Philip's granddaughter Edna Baybutt, a 76-year-old Stretford resident, unveiled the commemorative headstone, which had been made in America and sent over by the US Government.
The service to place the headstone on Philip's grave at Southern Cemetery was attended by the Mayor of Trafford, Cllr Marie Harney and was organised with the help of Trafford council and The American Civil War Society.
The ceremony was held the 138th anniversary of the Battle of Yagers Mill, and took place on the same day as a similar ceremony in America, where Edna's nephew unveiled a marker about Philip's medal on a Civil War battlefield trail.
Edna Baybutt said: "Philip was my father's father, and he died before my time, but by all accounts, he was a very brave man.
"He was shot in the war and the injuries made his life difficult on his return, but he got by and married my grandmother, which is where I come in. "Having the headstone at Southern Cemetery, where he is buried, makes my family and I feel very proud."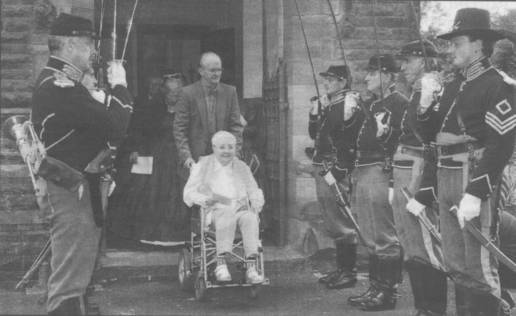 ---
The above article first appeared in the ACWS Newsletter, December 2002.