FACTOIDS BY PURSELL
Articles provided by John W Pursell, GA, USA
Born in Koeningsburg, Prussia in 1810, August Willich was introduced to a military career at the tender age of twelve. He entered Potsdam Military Academy in 1828 and graduated as a 2nd Lieutenant of artillery after six years of rigorous training. His Republican sentiments denied his promotion for almost thirteen years, when he finally became a Captain. He gave in his resignation but was denied and sent to a remote outpost in Pomerania. Persistence with repeated resignations finally brought on a court martial and he was dismissed from service. Immediately, he joined a revolutionary army and was quickly given command of a corps. Defeat at the battle of Candarn forced him to flee along with many others, to Switzerland. he finally made his way to America and arrived in 1853 without a penny to his name but he worked hard to become an editor of a German language newspaper. Within five years he had achieved his goal. At the outbreak of the War Between the States he volunteered as a private in the 9th Ohio where his military talents were quickly recognised and his promotion came rapidly. Finally given full brigade command, he missed the battle of Shiloh but fought ably and well in most of the battles leading up to Stones River. At the age of 52 he was one of the oldest, but most experienced officers in the Union Army of the Cumberland. Just before the battle of Stones River, Willich found that his brigade formed the extreme right flank of the Union army and so turned the brigade at right angles to the main line in order to protect his flank. Unfortunately, by doing this, his brigade would not have a clear field of fire during the upcoming Confederate attack. Willich knew he was close to the Confederate lines and should have "expected the worst" but he still allowed his brigade to stack arms and go into overnight bivouac.
When the fury of the Confederate attack came at dawn, his soldiers were enjoying a leisurely breakfast with their arms still stacked. Willich himself had ridden back to his commander's HQ to report that "all was quiet" in his sector. Kirk's brigade which formed the right angle to Willich's, crumpled like so many toy soldiers under the Confederate onslaught and the survivors crashed through the undergrowth and swamped Willich's brigade who were unable to form a solid defence line. Only the 15th Ohio were able to fire a couple of ragged volley at the Texas brigades who were the first Confederates to break through the Union positions. Willich was startled to hear the roar of cannon and musketry fire, but mounted quickly to return to his brigade. He was just in time to see the 15th Ohio withdraw by the right flank before he was rushed and surrounded by the victorious Texans. Kirk's and Willich's two brigades were too busy to notice his capture as they scampered westwards to escape the Texan's charge. The two brigades, now badly scattered did however perform a service which decided the outcome of the battle. The Confederates were supposed to swing to the north and roll up the Union lines, and were then to be followed by a second wave. The elated Texans, however, chased after the Union brigades to the west thus giving time for the other Union brigades in line to form some semblance of a defence. Willich remained a prisoner until he was later exchanged. He returned to duty under General William Sherman and his brigade fought in the advance through Georgia. Willich's career as an army officer came to an abrupt end during this advance when a Confederate sharpshooter put a mini ball through his arm and put him permanently out of action.
---
OUT WITH THE OLD, IN WITH THE NEW
Stonewall Jackson was not someone who was terribly concerned with material things. One of the most important Generals in the Confederate Army, he might have adorned himself with a uniform befitting his rank and position but this was not the case. Instead, he wore an old gray coat he had before the war. Even when it had been new, there had been nothing fancy about it. After almost two years of service, the uniform had fallen into a ragged state, so faded and overed with grass stains that the gray was hardly recognisable. Still, Jackson refused to part with it, until his good friend, J.E.B. Stuart interceded. Stuart was just the opposite of Jackson. He reveled in the finery of new uniforms, and strived to look the part of the dashing cavalier. Stuart thought that Jackson's coat was a disgrace to that officer, so he took it upon himself to buy him a new one, and what a coat he bought. It was made of fine gray wool, lined with blue silk. Five gilt buttons lined its front, and its sleeve decorations and the stars and wreaths on the collar were done in gold embroidery. A fine silk sash and snowy gauntlets completed the uniform.
Major Von Borcke, of Stuart's staff, was chosen to deliver the coat, which had been boxed and ornately wrapped for presentation. Von Borcke and several of Stuart's other officers went to Jackson's headquarters under the pretense of official business, and once that was completed, Jackson stated, "Fine, now let's have dinner."
"Just a minute, Sir," said Von Borcke. "First, I have a little gift here from General Stuart, sent with his respects and, I would say, with his love." An orderly then stepped forward with the gift wrapped box, and Von Borcke pulled the uniform out of it, amid oohs and aahs of Jackson's staff.
Jackson was deeply moved by the gift, but he started to say that the uniform was too fine to be worn and that he would keep it as a souvenir of the war. His staff would hear nothing of this, and they made him try in on at once. It was a perfect fit, and the General looked so dignified in it that his staff insisted that he wear it to dinner.
The drab, ragged old coat that Jackson had worn had become legendary with the men of his corps, and the word that he had finally turned it in for a new suit of clothes spread through his camp like wildfire. Hundreds of his men gathered round to get a look at it, whispering admiringly how good old "Stonewall" looked.
---
During the 1865 Federal campaign in the Carolinas under General Sherman, the fighting and skirmishing became downright ugly and consequently there were many "atrocity" complaints leveled by both sides. Federal chief of cavalry, Judson Kilpatrick, sent a dispatch to Sherman's HQ in which he said that many of his troopers had been murdered after capture whilst foraging, and at least two dozen had been found at the side of the road with their throats cut. About the same time, Corps Commander Frank Blair received a report that a forager belonging to his corps also had been found with his head smashed in by a rifle butt or some such weapon. Most of the dead men were found with a note pinned to their uniform stating "death to all foragers". Since foraging was considered to be a regular part of soldiering life, Sherman became extremely incensed when he was told about the deaths and issued orders to the effect that retaliatory executions were to be used to combat such murders. Kilpatrick was ordered to kill a like number of Confederate prisoners and leave them at the side of the road with a note pinned to them stating "a man will be killed for every one of our men you kill". The mere threat by Kilpatrick to kill Confederate prisoners was enough to start a negotiated prisoner exchange between Confederate Chief of Cavalry Joe Wheeler and Kilpatrick. A sort of reunion was organised between the two men who had been at West Point together and where they had been close friends. The exchange was made very amicably.
Blair on the other hand arranged for an execution in retaliation for the forager he had lost. On March 2nd, 1865 one hundred Confederate prisoners were made to file by a table and draw a paper out of a hat that was placed on the table for the purpose. Ninety nine of the slips of paper had a "G" printed on them and the one hundredth was left unmarked.
A Confederate from South Carolina by the name of James Miller drew the unmarked paper and was told to "put his affairs in order because he would be executed in one half hour". Miller was a man of about 50 years old, was a father of seven children, had been forced to join the army, and had never fought in a battle. He was, however, resigned to die and was led away to a nearby ravine and placed against a tree to which he refused to be tied. He was blindfolded and given a white piece of cloth in one hand and was told to drop the cloth when he was ready to meet his maker. Twelve men from the 30th Illinois regiment made up the firing squad but only six of the twelve had their rifles loaded with a live round. The orders were given to aim, and after a few seconds Miller released the piece of white cloth. Twelve rifles cracked and Miller fell dead, hit by all six of the live rounds.
It is interesting to note that after this single execution, there were no more reports of any Federal forager being murdered in South Carolina. The Confederate army surrendered to Sherman in little over a month later in North Carolina on April 26th, 1865.
---
AND NOW YOU KNOW !
The above articles first appeared in the ACWS Newsletter, October 2001
Of all the surgeons and assistant surgeons who served the Union army during the War between the States only one was a woman, and her name was Mary Walker. She knew General George Thomas casually and in conversation when he had once met her in Washington he had told her that she needed a lot more training before she would become a surgeon. Mary had taken his advice, trained diligently, and now she was reporting to General Thomas in person. He was lying under a tree in McClemore's Cove in north west Georgia when Mary, who had travelled far to find him, stepped forward and said, "Mary Walker reporting for duty sir". General Thomas stood up, laughed heartily, and told Mary that she was mad and that his commanding officer General Rosecrans would never entertain the idea of having a woman surgeon in his army. Nevertheless, as Mary seemed adamant about serving, Thomas commissioned her on the spot as an assistant surgeon. Neither of them knew at the time that they both would be sorely tested to their respective limits during the week ahead, for the battle of Chickamauga would soon commence. General Thomas would earn the sobriquet of "Rock of Chickamauga" for his brilliant rearguard defence and Mary's skills as a surgeon would save many lives, both Union and Confederate. Directly in the path of the massive Confederate breakthrough, Mary stayed behind to attend the wounds of a Confederate soldier and she was taken prisoner. As word spread that a woman surgeon had been captured, she created a minor sensation and became a celebrity of sorts when she arrived at Richmond's Libby prison for officers. At the end of the war she was awarded the Congressional Medal of Honor for her show of gallantry and dedication at Chickamauga but, in 1919, Congress decided that too many Medals of Honor had been awarded and a review board ordered revocation of the honor. Mary, who had worn a man's uniform whilst in the army and now sported male attire complete with top hat, bow tie, and wing collars, steadfastly refused to return the medal. She swore that she would never give it up and she never did. When she died the medal was clutched in her hand, the only Medal of Honor to be awarded to a woman during the War between the States.
In 1977 a review board met once again and decided that the medal so gallantly earned by Mary at Chickamauga was to be re-instated. She was even further honoured by having her portrait placed on a commemorative United States postage stamp issued during that year.
---
There were about 700 dead amongst the 1600 Union casualties and as battles go, this was an unusually high percentage. Most of the dead had been killed by head or upper torso wounds and were stacked so close together that Confederate officers viewing the scene after the battle thought that they had already been gathered for burial. When the officers were told that the dead lay exactly where they had been killed, they were shocked. In many places, fifty or more bodies lay within a thirty foot square indicating that they had met terrific, and very concentrated fire power. In actuality, the fearsome number of casualties were a result of two contributing factors. These Union troops, commanded by William B Hazen, had been ordered to locate the fight flank of the Confederate army which stretched in line from Dallas, Georgia, through New Hope, and on to Picketts Mill. Picketts Mill, on the northern end of the Confederate line was defended by the troops of General Patrick R Cleburne, one of the fiercest fighters in the whole Confederate army. Cleburne was an Irish immigrant who had served in the British army where he had learned his trade well. Cleburne's troops were placed on a strategic ridge overlooking a valley and steep ravine that any enemy would have to traverse to reach the Confederate flank. On Cleburne's right, and at an angle to it was General Granbury's brigade and stretching the angle even further was the dismounted cavalry under a 23 year old General named John Herbert Kelly. This almost "V" shaped defence line allowed the Confederates to keep up a steady crossfire on the first wave of Hazen's Union troops and was one of the leading factors in the number of casualties suffered. The second contributing factor was that Hazen's troops had been sent in unsupported and it wasn't until they had been almost annihilated that they received the support they had sorely needed. The Confederates, therefore, had plenty of time in between Hazen's advance and the second Union advance to replenish their ammunition for both their infantry and artillery. As the second wave of Union troops advanced through Hazen's dead and dying, a further display of Confederate firepower erupted and enfiladed the Union ranks. In less than an hour another 700 casualties were added to the others in the valley and ravine. The battle had started at 4.30 pm and it was now 10 pm but still it was not over. Confederate troops silently formed ranks and then, suddenly and screaming the Rebel Yell, they charged down into the valley to hurl themselves on the Union survivors. The few Union troops who were left scampered for safety under this onslaught leaving the battlefield in the hands of the victorious Confederates. In the aftermath of the battle of Picketts Mill, Union General William T Sherman all but left it out of his battle reports. Confederate General Patrick R Cleburne in his report praised the bravery of the Union troops but stressed that, "it was their bad luck to meet up with my brigades".
---
AND NOW YOU KNOW !
The above articles first appeared in the ACWS Newsletter, June 2001
Franz Sigel was born in Sinsheim, Baden, Germany in 1824 and received the usual very strict German military education. As a young officer he participated in the revolts in Germany during 1848, and although he acquired rank and the prestige that rank brings, his military successes were definitely lacklustre. He suffered more than his share of defeats and finally in 1852 he fled to New York where he soon became the administrator of a German language school. Many German immigrants were then living in St. Louis, Missouri, and this attracted Sigel to move there where he was chosen to be the director of schools in the predominately German section. Whether it was his charm or personal magnetism that appealed to the German population or not, he quickly became a very popular figure in the community. With all the talk of war in 1861, Sigel began drilling a regiment in St. Louis and his quick thinking was instrumental when he was able to capture rebel sympathisers and prevent arms and ammunition being removed from Camp Jackson. Two months later, he saw action in a skirmish at Carthage, Missouri and became the hero of the German immigrant population. To encourage German recruitment Sigel was made a brigadier, but in his first major engagement three days later at Wilson's Creek, he was soundly thrashed and retreated in disorder. General Lyons, Sigel's commander in the battle was killed and Sigel bore the brunt of all the criticism and blame for the loss. The Germans, nevertheless, remained loyal to their "hero" and because of the criticism, made a martyr of him. Sigel tendered his resignation but still made his way to Washington gathering support along the way, and was finally rewarded with the rank of Major General in early 1862. Returning to a command position he fought, again without distinction, at Pea Ridge, Arkansas, and was then sent to replace General Fremont as a corps commander in the Shenandoah Valley. Sigel's corps was one of the many that were beaten and driven back during Confederate General "Stonewall" Jackson's famous Valley campaign. He also turned in a very poor performance at the 2nd battle of Bull Run. Despite all this, he was given a temporary but very brief command of a division which had just fought at Fredericksburg. His star appeared to be rising. When this temporary promotion was over and he was sent back to his corps, he was so upset that he took extended "medical leave". His German support remained undiminished and he took advantage of this to openly criticise his treatment and to campaign for the command of a new Federal army which was to clear the valley of Confederates. Lincoln, realising the potential for German votes to aid his re-election, appointed Sigel to the post. Sigel advanced down the valley but was soundly beaten at Newmarket and was soon replaced. He was placed in command of reserves but as Confederate General Jubal Early marched on Washington and approached Sigel's position, Sigel and his ten thousand man army faded away without firing a shot. This was the last straw and although he was not demoted, Sigel was to spend the remainder of the war in Washington and New York. His lacklustre career continued after the war when he served both Republican and Democrat parties in minor offices. During this time, he wrote many articles about his "war experiences" and also began his autobiography. When he passed away on August 21st, 1902, it remained unfinished.
---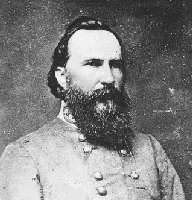 After his command's brilliant breakthrough at the battle of Chickamauga followed by a lacklustre effort to oust Union General Burnside's strong position around Knoxville, Tennessee, Confederate General James Longstreet returned to the army of Robert E Lee in Virginia.
Seeming to regain his old vigour, his smashing counter attack in the battle of the Wilderness turned the tide against the Federals but then it fizzled out as Longstreet was forced to leave the field after receiving a wound inflicted by one of his own men. Returning to his home in Georgia he finally recuperated enough to return to Lee's army at Petersburg with his paralysed right arm painfully visible for everyone to see. He had, however, lost the spark that had won him so many battles. Lee had already lost one strong right arm when General "Stonewall" Jackson was shot by his own men, and now he had all but lost another strong right arm in Longstreet who he called his "old war horse". Longstreet was to remain with Lee until the bitter end and the final surrender at Appomattox, but was destined afterwards never to see his beloved commander again.
---
AND NOW YOU KNOW!!!
---
The above articles first appeared in the ACWS Newsletter, February 2001
"FRAGGING," or purposely killing a fellow soldier, was the probable cause of the death of Thomas Wilson, a tyrannical Federal general. He died in action at the battle of Baton Rouge when, according to one account, he was seized by a group of his own men who held him in front of a cannon before it was fired at the enemy.
---
When Confederate Gen. Jubal Early marched on Frederick, Maryland, he offered not to torch the town for a payment of $200,000. It took the townspeople a day to borrow the money - and 87 years to pay it back. When Chambersburg, Pennsylvania, failed to raise a ransom of $500,000, Early's subordinate, Gen. John McCausland, burned the town to the ground.
---
The arm of Confederate Gen. Stonewall Jackson was amputated when he was wounded at the battle of Chancellorsville. Following the operation, Jackson's corps chaplain gave the arm a respectful burial - complete with a gravestone - in his family's cemetery. When the general died a week later, the rest of him was buried in Lexington, Virginia.
---
Hiram Ulysses Grant was mistakenly listed as Ulysses Simpson Grant by the congressman appointing him to West Point. Grant did not protest, and the name stayed with him all the way to the presidency of the United States.
---
NAVAL FACTOIDS BY PURSELL
---
March 9, 1862, brought the clash between ironclads that experts say changed the history of naval warfare by making wooden vessels obsolete. During four hours of fighting, each of the experimental vessels used all of her firepower against her opponent.
So many direct hits were scored that when approaching darkness caused the duel to end for the day, commanders of both vessels suffered under the same error. Capt. Franklin Buchanan was convinced that his Virginia had inflicted mortal damage on the Monitor, and Capt. John Worden was positive that his Monitor had put the Virginia out of commission.
Post-battle inspections showed that neither of the vessels was gravely damaged.
---
Mighty as she was, the CSS Virginia was afloat for only two months before Confederates sank the vessel to avoid capture. During most of this period she was in dock or was laid up for repairs. As a result, and due to injuries suffered in battle, the Confederate vessel that fought in the first duel of ironclads had three commanders during her short life. Her first, former Union naval officer Franklin Buchanan, lasted just three days.
---
During the second year of conflict, Charleston shipbuilder Theodore Stoney designed a craft unlike any ever seen on an ocean or river. Armed with a spar torpedo, his little boat rode very low in the water in order to avoid big guns of the vessels comprising the Federal blockading squadron.
From the beginning of the attack vessel's career, Confederates hoped to use it to send huge warships to the bottom, Casting about for a suitable name, someone remembered the biblical conflict between David and Goliath. Because Stoney's vaunted experimental vessel was tiny, all similar torpedo boats went against Federal giants took the name "David."
Rear Admiral John A Dahlgren took the little vessels seriously, as each could put approximately one hundred pounds of explosives against the side of a warship. Early in 1864 Dahlgren proposed that the Federal government offer a reward of £30,000 to any person who captured or destroyed a David.
---
Naval engineer John Ericsson, who entered into a contract to build for the U.S. Navy its first ironclad vessel, agreed to have it ready for action in one hundred working days. He was barely one day late in making delivery of the finished warship. When the Monitor moved into New York's East River on January 30, 1862, with the Stars and Stripes flying from both its flagstaff and turret, one long clause of the contract had not been fulfilled. Though she was steam-powered, naval leaders had insisted that the vessel built to withstand the CSS Virginia must be equipped with masts and sails. Ericsson balked, violated his contract, and never provided the stipulated gear for his novel warship.
---
No all-out battle between armoured warships led to more than a fraction of the casualties from the explosion of a river boat. At least sixteen hundred men - perhaps more - died when the boilers of the Sultana exploded late in April 1865. She left Camp Fisk, near Vicksburg, with an estimated 1,866 soldiers aboard; many of them had been prisoners of war.
Because no rolls were kept, there is no official record concerning the number of casualties. But one of the passengers, Capt. A C Brown of the Second Ohio Regiment, may have had an accurate count. According to him, the ship's clerk said that the vessel headed for Cairo, Illinois, with 2,580 men aboard.
Regardless of her passenger load, in addition to men in uniform, the Sultana carried a crew of eighty-five and about seventy-five civilians. Her hold included a cargo of at least one hundred hogs and fifty or so horses and mules. Explosions came shortly before 3.00 a.m., when the vessel was some ninety miles from Memphis. A lengthy enquiry led to the conclusion that overloading led to the tragedy.
Officials responsible for overseeing the transportation of soldiers admitted, under questioning, that the total load of the Sultana was too great for her boilers. They carefully avoided introducing into evidence details of the reason for the vessel's late arrival at Camp Fisk. Fresh from St. Louis, she was delayed en route by boiler trouble.
---
Ever wonder why so many U.S. Warships of the Civil War era bore American Indian names? Builder Alban C Stimers is largely responsible. When he agreed to supervise the construction of twenty iron clads, he let contracts in which special clauses stipulated that each vessel should be given an Indian name.
---
Many of the most famous vessels in the Confederate Navy were build in English ports, while a few were built or purchased in other overseas cities. Some of these ships, renowned for successful cruises of thousands of miles, never entered a Confederate port.
---
AND NOW YOU KNOW!!!
The above articles first appeared in the ACWS Newsletter, October 2000
James H Wilson was born and raised in the same area of Southern Illinois where Abraham Lincoln spent his early years. At age 17 he was attending McKendree college but when he reached 18 he entered the U.S. Military Academy. The year was 1855. Upon graduation in 1860 he was assigned as a 2nd Lieutenant to the expeditions against Fort Pulaski in Georgia and Port Royal in South Carolina. Eventually he was transferred to the western theater of the war and served closely with the Generals who were to shape the plans for the western campaigns. Fluent in the use of the telegraph, he was the operator who received the order which relieved General Rosecrans of his command at Chattanooga and a few days later the order which put General U.S. Grant in command of the Army of the Cumberland. After Grant took stock of the available forces in his command, he appointed Wilson, who had never before led any large number of troops, as General of Volunteers. Wilson's appointment on October 31st, 1863 not only made him at 26 years of age the youngest General in the U.S. Army, but the only officer promoted from Grant's headquarters to a field command. Other than Napoleon and Alexander the Great he also became the youngest General ever to lead such a large army into battle. Wilson fought with Grant at Chattanooga and then was transferred to the Army of the Potomac where he took command of the 3rd Cavalry Division for service with General Phillip Sheridan in the Shenandoah Valley and around Richmond. When General Sherman's campaign in Georgia began, Wilson was once again transferred for service in Sherman's cavalry. He was now 27 years old and a Brevet Major General.
Despite his young age, he moved his cavalry troopers into Alabama to face the legendary Confederate cavalry leader Nathan Bedford Forrest and became the only Union cavalry officer during the whole war to outwit Forrest by out marching and outmanoeuvring him. After a raid originally directed towards Selma, Alabama, Wilson veered eastwards and entered Georgia again in April of 1865. Hearing that Confederate President Jefferson Davis and his staff had evaded capture in Richmond and were trying to reach Mexico by way of Georgia, Wilson had hundreds of handbills printed in Macon. The handbills stated ONE HUNDRED THOUSAND DOLLARS REWARD IN GOLD WILL BE PAID TO ANY PERSON OR PERSONS WHO WILL APREHEND AND DELIVER JEFFERSON DAVIS TO ANY MILITARY AUTHORITY OF THE UNITED STATES. SEVERAL MILLIONS OF SPECIE REPORTED TO BE WITH HIM WILL BECOME THE PROPERTY OF THE CAPTORS. Within four days of the distribution of the handbills, Davis was captured near Irwinville and Wilson and Davis conferred that same evening. Wilson dispatched a message to announce Davis' capture to Washington and then inexplicably sent a second dispatch stating that Davis had been captured wearing one of his wife's dresses. Wilson may have sent this second message to promote ridicule and laughter or simple humiliation of Davis, but two Union troopers, one of them a Captain, who had been present at the capture vehemently denied the story. The Captain said that Davis had been wearing a military style suit, cavalry boots, and a grey flannel military blouse when captured. Once the fabricated story was told, however, it was difficult to deny and became a topic of discussion for decades. James H Wilson was promoted to the permanent rank of Major General for his capture of Davis and once again history records that he was the youngest man to attain that rank.
---
What happened to the Confederate gold bullion and coinage after it left Richmond??
On April 2nd, 1865 the Union army finally smashed through Richmond's defences and President Jefferson Davis was advised to leave the doomed capital. Pleading with Robert E Lee to form defends lines for just one more day, Davis informed his cabinet that Richmond was to be evacuated and that the Confederate treasury and valuables were to be taken along. General Lee told Davis he had until 8pm to organize the loading of the gold, valuables, and Confederate officials on two trains which would travel southwards on the only line still open from Richmond to Danville. The first train was boarded by all the officials, and Captain William H Parker of the Confederate Navy was placed in charge of the second train and its "special cargo". Parker knew that gold ingots, gold double eagle coins, silver coins, silver bricks and Mexican silver dollars would comprise this cargo and he gathered the only available personnel to provide a military guard. The guard was to be made up of mostly young nave midshipmen from a training ship on the James river and some of them were only twelve years old. The two trains left Richmond at midnight and when the tracks ended, Davis and his staff were forced to travel southwards on horseback. Captain Parker and the treasure, now transferred to wagons, were directed to the old U.S. Mint at Charlotte, North Carolina which was considered the safest storage place. Parker found that Federal cavalry were already in the immediate area and he had to make alternate arrangements. The treasure was placed into all kinds of containers that had once been used for sugar, coffee, flour, and even ammunition. Zigzagging across the South Carolina/Georgia state line several times, Parker evaded capture and finally turned over responsibility for the treasure to acting Confederate Secretary of War, John H Reagan. Reagan immediately passed this responsibility to the Secretary for War, John C Breckenridge who then placed Brig. General Basil Duke in charge. Duke had slightly less than a thousand men in his command. Duke transferred all of the treasure into six wagons and began his journey with eight of his veterans on each wagon as guards, and the rest of his command along with the midshipmen as escorts . Jefferson Davis and his cabinet met for the final time in Washington, Georgia and Davis signed his last official order making Micajah Clark the acting Treasurer of the Confederacy. Clark did manage to get to Florida with some of the gold where it was buried and some of this was found later. Stories of what happened to the bulk of the treasure on it's journey were recounted later. Some of the coinage, $1.15 per man, was handed out to soldiers of General Joseph Johnston's army after it's surrender, to pay their way home. Duke and his escort came out a little better as each officer and man of the command received $26.25. More of the treasure was placed in a false bottomed wagon and headed for Charleston and eventually to Europe. It never reached it's destination!! The bulk of the treasure was captured at Washington, Georgia even before it started it's journey and more was captured along with Jefferson Davis and his staff. This captured treasure was finally assembled and loaded in wagons for transportation to Washington, D.C. But somewhere in Wilkes County, Georgia the wagon train was bushwhacked. The bushwhackers were probably stragglers from both Federal and Confederate armies who had heard of the treasure and the "handouts" being given to soldiers. Residents of Wildes County, witness to the bushwhacking, said that the bushwhackers waded "knee deep" in the gold and silver coinage before loading it in all kinds of bags and sacks and then riding away. It is said that many were so overloaded that they later discarded or hid large quantities of the coins all over Wilkes and Lincoln Counties. Paper money that had made up part of the treasure became worthless after a few months but the gold and silver that had been in the Confederate treasury was quite a significant amount and would be worth a fortune by today's standards.
Much of it was lost or hidden between Washington, Georgian and the Savannah river. Some of it reached South Carolina and some reached Florida. BUT, before you all rush to buy metal detectors and rush off to these areas, remember that metal detectors have been around for years and many searches have already been made. AND, we all know if searches were successful, the searchers would have revealed the locations by now WOULDN'T THEY??
AND NOW YOU KNOW!!!
The above articles first appeared in the ACWS Newsletter, June 2000
Cures for wounds and ailments suffered by soldiers in the War Between the States were very few and far between, particularly in the Confederate forces.
Opium, quinine and chloroform were effective when used, but were most often in very short supply to armies in the field. Because of the shortage of effective drugs, most soldiers resorted to using the "home remedies" that they knew about but these often did more harm than good. Leaves, bark and the roots of trees and bushes scavenged along the route of march were used by the soldiers in greater quantities than the recognised drugs used by the army doctors and surgeons. Even these doctors and surgeons resorted to and were often encouraged to experiment and use the concoctions that could be made from the various plant life available.
Many strange and foul tasting medicines were mixed and tried out, but by far the biggest favourite amongst the soldiers was one that was supposed to be a substitute for quinine and which they named "Old Indigenous". The ingredients for this "Old Indigenous" consisted of the dried and ground up bark of Willow, Dogwood and Poplar and laced with a very, very generous helping of WHISKEY!! It would probably still be just as popular today. AND NOW YOU KNOW !
The above articles first appeared in the ACWS Newsletter, June 2000
In the eleven years that the Starr Arms Company was in business it produced carbines, revolvers, derringers and pepperbox pistols, ninety five percent of which saw service in the War Between the States. The Starr carbine, patent number 21523 was indeed a remarkable weapon in that it had a misfire rate of a flat zero! Slightly more than twenty thousand of these were produced and delivered to the United States army for an average price of 25 dollars each! The single action and double action revolvers produced in calibre .36 and calibre .44 were also delivered at a cost of 15 dollars each. Forty seven thousand nine hundred and fifty two of these revolvers and most of the carbines saw battlefield use. Despite the enormous success of the company and dependability of the weapons it produced during the war, the end of hostilities spelled doom for the manufacturer. By the end of 1867 the company was in the midst of severe monetary difficulties, was sold, and then disappeared forever into the pages of history.
---
After the three days of battle at Gettysburg in July of 1863, most of the Confederate troops who were killed were tumbled into mass graves by Union burial details and local farmers who had been paid fifty cents per body to give "a decent burial". It was 1871 before several hundred of these men were exhumed, boxed for shipment and brought to Richmond which had been the Capital of the Confederacy, for honourable re-interrment. Further exhumation began in April of 1872 and by October of 1873, two thousand nine hundred and thirty five bodies had been recovered and shipped to Richmond. Re-interrment took place on "Gettysburg Hill" in the Hollywood cemetery in Richmond. Amongst those who were buried there, were the men who had fallen in the charged named after General George Picket, the famous "Picket Charge". When General Picket himself died in 1875 he was buried, at his own request, alongside those brave soldiers of his command. His grave is atop Gettysburg Hill along with the monument which was supposed to be placed on Cemetery Ridge at Gettysburg, but for which permission was not granted by the government. The monument was placed at its present location in the cemetery at Richmond in 1888.
---
John Cabell Breckenridge was a member of a very well known and distinguished Kentucky family. He was born in 1821 and was educated to become a lawyer but when the war with Mexico began, he was appointed as the major of the 3rd Kentucky Infantry. Although the regiment went all the way to Mexico City in 1847, Breckenridge saw no action. After the war, in 1849, his service helped him gain a seat in the Kentucky legislature and in 1851 was elected to the United States Congress. He was re-elected in 1853 and then retired two years later but still remained politically inclined. In 1856 he became the running mate of James Buchanan in Buchanan's bid for President and when he was elected, Breckenridge became the youngest Vice President in history. He was nominated by his party for President in 1860, but lost to Abraham Lincoln, the husband of his distant cousin, Mary Todd Lincoln. Breckenridge remained in Congress even after the War Between the States started, trying his best to stop the madness and also opposing Lincoln, but finally he chose to leave and join the Confederacy. He was commissioned a Brigadier General and fought well at Shiloh, Stones River, Chickamauga and many others. By 1863 he was a Major General serving under General Bragg to whom he developed a distinct dislike. Richmond chose Breckenridge to command a new Army of the Valley I 1864, who's job it would be to defend against Federal intrusion or interference in crop gathering to feed the Confederate armies. Breckenridge did just that, and soundly thrashed the Federal army under Franz Sigel at Newmarket. Returning briefly to fight under Robert E Lee, Breckenridge and his men fought at North Anna and Cold Harbor before returning to fight under Jubal Early in the Shenandoah and the march on Washington. Returning to the Shenandoah after the march, and then to Southwest Virginia for a short time, Breckenridge was finally summoned to Richmond where President Jefferson Davis appointed him Secretary of War on February 6th of 1865. Breckenridge realised by this time, that the war was lost and devoted his time in preparation for Davis' escape and for an honourable end to the war. When Richmond fell on April 2nd, Breckenridge directed Davis' and his own escape from the city. Later, when they parted company, Breckenridge rode south through Georgia into Florida where he crossed by boat to Cuba and eventually to Europe. Three and a half years of exile were to be spent in England, in Europe, and in Canada before Breckenridge was to return to Kentucky. Under the general amnesty that was being offered, he returned in 1869 to conduct his law practice in Lexington, but never entered politics again. He had no harsh words for anyone except the Ku Klux Klan, which did not thrive in Kentucky mainly because of Breckenridge's opposition. Finally, in 1875, at the age of only fifty-four Breckenridge died. The war and his efforts for peace and for reconstruction had worn him out. He was to be mourned by both the North and the South, but one newspaper wrote that now that Breckenridge was dead, there was no North and no South, just one country.
---
AND NOW YOU KNOW !
The above articles first appeared in the ACWS Newsletter, April 2000
During Confederate General Braxton Bragg's 1862 invasion of Kentucky, his army had all but surrounded a 4000 man Federal army in a small fort under the command of Colonel John T Wilder. Bragg demanded immediate and unconditional surrender and pointed out that the Federal case was hopeless. Colonel Wilder came into the Confederate lines that evening under a flag of truce. He asked to see Major General Buckner, and officer in Bragg's army who had surrendered Fort Donelson to the Yankees just seven months earlier and then had been exchanged for Federal prisoners. When Buckner met Wilder, Wilder admitted to Buckner that he himself was not a military man but that he had heard that Buckner, besides being a professional soldier, was a very honourable and honest gentleman as well. Wilder then asked Buckner, "under the rules of war, should I surrender or order my men to fight it out"? Buckner, although absolutely flabbergasted by the question, would not deceive Wilder and told him that the decision was his and his alone to make. He did tell Wilder that Bragg had roughly six times the number of men and enough artillery at his disposal to destroy Wilder's little fort. He finally took Wilder to meet General Bragg who was civil, but very curt with Wilder. Bragg and Buckner with Wilder trailing behind, then strolled along the Confederate emplacements allowing Wilder a chance to see what he would have to face if he chose to fight. Wilder only counted enough to convince himself that it was hopeless to oppose such a large force and he surrendered forthwith. He was after all simply a civilian, recently turned soldier, and was seeking the best military advice he could find, albeit that the military advice was coming from enemy sources. All things considered, Bragg treated Wilder's surrender quite fairly.
---
The Union Irish Brigade at Gettysburg on July 2nd, 1863 were advancing through the wheat field only minutes after receiving the blessings and absolution from their Chaplain, Father William Corby. Little did they know that a "buzz saw" with the name of Confederate General Kershaw's South Carolina Brigade was waiting to chew them up into sawdust. As the two brigades inched closer, many musket volleys were fired, bayonets were fixed and a charge was ordered for both brigades. As contact was made, the bayonets were freely used, and finally muskets were used as clubs as the two brigades finally clashed with each other. Dozens of the South Carolina brigade fell and their colour guard was virtually wiped out as the brigade was finally forced to retreat. The Iron Brigade held the field but they really had no reason to cheer. Over forty percent of the brigade's men who had started the charge were now casualties. What a price to pay for the few precious moments gain to stabilise the Union line.
---
AND NOW YOU KNOW !
The above articles first appeared in the ACWS Newsletter, February 2000
It was September of 1862 when the war came to this peaceful corner of Maryland. Sunday morning services were being held by a religious sect of German brethren in their white painted church near the small town of Sharpsburg, when the dull and distant roar of cannon was heard by the congregation. At first, it was thought to be distant thunder but soon, the black pall of cannon and musketry smoke was seen rolling down the western slopes of South Mountain, a scant few miles distant across Antietam Creek. After their initial surprise and shock to see the smoke, the congregation chose to ignore it, and after their service was complete they all journeyed to the Samuel Mumma farm for a typical country style dinner. As they ate, the battle for the passed through South Mountain continued and it wasn't until late in the evening that the noise subsided. 18,000 Confederates had held off an overwhelming number of Federal troops but now, under direct orders from General Robert E Lee, they fell back towards Sharpsburg and prepared new defensive positions. Butternut and Federal blue clad bodies lay clustered in the mountain passes and as the Federals advanced to occupy them, they simply covered the bodies and bivouacked amongst them for the night. They would await the dawn before burying the dead and crossing the mountain. By Wednesday of this same week these Federals and the Confederates now digging in across the Antietam would be locked in mortal combat in the bloodiest conflict ever to be fought on American soil. The little German church would be filled to capacity with the shattered bodies of both Yank and Rebel, and Samuel Mumma's beautiful farm would be in ashes. Lists would be compiled of the dead, wounded and missing to be sent for publication to newspapers in both Northern and Southern states, where anxious families were waiting to hear the sad new.
Sharpsburg and Antietam creek would become synonymous with battle and death and would gain undying significance in American history and the title of America's bloodiest day.
AND NOW YOU KNOW!
The above article first appeared in the ACWS Newsletter, December 1999
As men rushed to join the colours of both Union and Confederate armies during the War Between the States, George Todd, his three half brothers Samuel, Alexander, and David, and his brother-in-law Benjamin helm all chose to join the ranks of the Confederate army. George was to serve as a hospital administrator in South Carolina whilst his half brothers and brother-in-law joined the fighting ranks of the army in the western theater of the war. Samuel was killed outright at Shiloh, Alexander was killed at Baton Rouge, and David was mortally wounded at Vicksburg and died shortly thereafter. Benjamin Helm rose in rank to Brig. General, and was in command of the Kentucky Orphan Brigade at the battle of Chickamauga. In desperate charges to flank the Union left, Helm was in the forefront of his men when he was hit mortally. He died whispering the word "victory" over and over again. As each man had been killed in action, the news had been received and greeted with pain and anguish by his family and relatives. It also brought pain and anguish when the news finally reached the White House in Washington. It was there that Mary Todd Lincoln was to mourn the death of the four men, her three half brothers and a brother-in-law who had died fighting against the armies of her husband, President Abraham Lincoln.
---
The true extent of Napoleon's early campaign victories lay in the fact that he demanded that his officers teach their individual commands "par example". Since teaching "par example" required the officers to be in the forefront leading the men into action, casualties amongst them were always high. As good officer replacements became harder and harder to find, the discipline and leadership also declined and so did Napoleon's armies.
During the War Between the States, leadership was also "par example", but because of improved musket and cannon fire power many more experienced and promising junior officers were shot down long before they would have been promoted to brigade or division command rank. Both Union armies and Confederate armies were commanded "a la Napoleon" and it is a natural result that the officer corps suffered tremendous casualties when they were exposed to this fire power whilst in combat. The Confederate army enjoyed great success early in the war, which is attributed to the zeal and quality of the officers who led the men into battle. This zeal, however, also brought with it heavier casualties and also greater difficulties in maintaining the quality of leadership. Of the 425 officers who attained the rank of General in the Confederate army, 77 (18%) were killed in action and a much larger number badly wounded At Gettysburg alone, of the 52 Confederate Generals present, 5 were killed and 12 wounded or captured. By comparison, the Union's 583 Generals to serve during the war, only 47 (8%) were killed in action. Just another statistic, which helped the Union win the war.
---
Captain Edward Mitchell Whaley and Lieutenant George Stoney of the 1st South Carolina Regulars were advancing with their company during the Battle of Bentonville. The noise of artillery and musket fire was deafening and Whaley reached and took hold of Stoney's jacket to pull him closer so that he could shout his orders into Stoney's ear. Suddenly, as enemy artillery projectiles whistled around them, one hit Stoney and nearly cut him in half. "I caught the upper half of Stoney in my arms", recollected Whaley, "and I called for some help to lay him down at one side". As Stoney was laid down, Whaley was astounded to find that not only was Stoney still alive, but that he was fully conscious. The nineteen-year-old Stoney refused the morphine offered to him by Whaley and also would not drink any water from his canteen. As he lay there, Stoney insisted that all he wanted to do was to dictate a letter to his mother, and then after this was done, for someone to read to him from the bible. Amazingly, Stoney lingered on until days of the next day. Some friends and relatives serving in Stuart's artillery battery hear that he had been mortally wounded, and after he had died they searched for a place to bury him. The place they chose, was an old log cabin, which had an earthen floor. Here it was that they dug his grave and lovingly placed his body. A company comrade recounted later that an Episcopal service was read whilst the roar of the renewed battle erupted around them. After the short service, all of the mourners returned to their respective units and joined in the fight.
---
The battle for Vicksburg was over. General Pendleton had surrendered and the Yankees were all set to take possession of the city. It was a very odd feeling to be occupied. The only cheer heard on the first day of occupation was one raised by the Yankees for "The gallant defenders of Vicksburg". The Confederate defenders of course, had very little to cheer about, for they were starving and had gaunt, hollow faces and sunken eyes. It wasn't too long, however, before the order of the day became "fraternisation". It was hard to believe that these Yankees and Rebels had been at each other's throats only days before. A Confederate officer mounted on a white pony on which he had made the circuit of the confederate lines each day was accosted by a Union soldier who said, "Danged if you ain't the hardest feller to hit I ever say"/ "I must'a shot at you more'n a hun'erd times". A Union officer charged with guiding his unit's rations to where they had been posted in the city, took pity on the first Confederate unit he came across. He broke open the barrels of hardtack, coffee, and sugar knowing full well that his unit would go hungry themselves without the supplies. Later he swore "by all the Saints in the calendar" that his wagons had broken down and the Johnny Rebs had stolen all the grub.
By the second day it was virtually impossible to tell the two former opposing armies apart or that they both now occupied Vicksburg. Men were so glad that the killing and dying was over that they acted like old friends instead of the deadly enemies of days ago. On entering Vicksburg the Federal Commander, General U.S. Grant, noted that the men of the two armies were acting as if they had been fighting for the same cause. Little did he realise that in essence, that is exactly what they really had been doing. Winning the freedom that all Americans enjoy today.
---
AND NOW YOU KNOW !
The above articles first appeared in the ACWS Newsletter, August 1999
The day after Xmas in 1862, eighteen hundred Confederate cavalry of General J.E.B. Stuart's command crossed the Rappahannock River at Kelly's Ford into forbidding territory controlled by the Yankees. Stuart, after dividing his forces into three distinct units, gave specific orders to each unit to attack their appointed targets. They were then to join up and form one unit again.
Stuart's main plan was to cut the road, which ran from Fredericksburg to Washington and interrupt the communications coming along it to the Federal armies all over the area. Secondary targets were assigned to capture or destroy as many Yankee supply wagons and stores that his units came across. Fighting dozens of small skirmishes the men carried out Stuart's orders to the letter. They captured many wagons, killed many Yankees in the process, and took prisoners when possible. As Stuart's three units joined up together again he did just the opposite of what the Federals thought he would do. Instead of high tailing it back towards his own lines, Stuart led his men in a wide circuit around the Yankee armies, which were frantically looking for him.
He even took time to capture a Federal telegraph station to send a message to Federal Quartermaster General Meigs in Washington. In his telegraph, Stuart complained of the very poor quality of mules he had captured, and stated also that this poor quality was slowing down the removal to his own lines of the wagons he had also captured. He asked that the quality be improved in the future. The telegraph was brazenly signed General J.E.B. Stuart.
AND NOW YOU KNOW !!!
The above article first appeared in the ACWS Newsletter, February 1999
FAMOUS ANCESTORS
Two regimental commanders, who fought in the 1864 Shenandoah Valley campaigns of General John C Breckenridge and Jubal Early, were cousins. Both held the rank of colonel, both were named George, and both were skilful, resourceful and courageous officers. Both were commended by Breckenridge as being instrumental in his brilliant victory at the battle of Newmarket on May 15th, 1864. Both were again praised by Breckenridge and Early after the victory at the Battle of the Monocacy in July 1864, during Early's march on Washington. In the retreat forced on Early by lack of men and supplies, one of the cousins would be killed on the eve of his promotion to General, at the battle of Winchester in the Shenandoah. He left a grieving widow and several children. The other cousin would survive the war and then flee to Mexico with thousands of other Confederates to avoid having to live under Yankee domination. After his cotton growing business failed in Mexico, he returned to California and began what was to become a very successful legal career. His success and popularity led to his election to the American and British Philosophical Societies and his written papers helped nudge Britain towards the adoption of the "Higher Law" theory of jurisprudence instead of the "Will of the State". In 1870 he married the widow of his cousin who had been killed at Winchester and was very instrumental in instilling in his cousin's children the remembrance of their dead father and his Southern cause.
One of those children, named George after his father, was only nine years old when his mother re-married. When he reached manhood, married and had children of his own, he also named a son George and quite naturally sent him to the Virginia Military Institute to receive a "Southern" military education. After V.M.I., young George went to the United States Military Academy at West Point from where he graduated in 1909. In 1915, he lost the only man he knew as grandfather, the man who had recounted to him the battles of the Civil War and his real grandfather's bravery. Sent to France during World War One, young George organised the tank centre at Langres and then directed the 304th Tank Brigade's attack during the St. Mihiel offensive.
Between World War One and Two, George attended the General Staff School, and the War College and he rose in rank to Lt. General. During World War Two, he led the American landings in North Africa, commanded the American forces at Tunis and then was made commanding General of the Western Task Force. He was chosen to lead the 7th Army into Sicily and then transferred to command the 3rd Army in Europe. His disdain for military protocol and his strictness for discipline and punishment of so called "slackers" led to many controversial situations. All these he survived until his untimely death in a Berlin accident in 1945. He never forgot the pride and heritage of being named after, and descended from, George S Patton, the Confederate Civil War officer killed at Winchester. He never forgot the "grandfather" George H Smith who had taken responsibility for the dead Patton's family and taught him his heritage.
Both of these men, and even young George himself had he lived, would have been proud to know that a grandson would be born to young George on May 15th, the anniversary of one of their triumphs at the battle of Newmarket.
AND NOW YOU KNOW !!!
The above article first appeared in the ACWS Newsletter, February 1999
Next to a Yankee, the most obnoxious and contrary animal that served in the War Between the States was the army mule! Obnoxious and contrary they might have been but the fact remains that without these animals carrying supplies to the armies in the field, the war could not have been sustained for long. Many times they were the only lifelines that an army had when the terrain was too rough for wagons to bring in the food and ammunition required. If food supplies ran out unexpectedly the poor old mule was often slaughtered for his meat. He was also slaughtered by the armies of both sides when captured, simply to deprive the enemy of his further use. Therefore, the mule would only get a brief reprieve if that particular army was, at that moment, short of mules to carry their own supplies. Most mule breeders were located in western Kentucky and Missouri and they would sell to anyone who would give them the ten dollars per head that they demanded. Because of their high stamina and ability to withstand hardships, mules would often replace horses in pulling field artillery, and were also used for every other purpose needed by an army when horses could not be obtained. Because of the high demand for horses by the cavalry, shortages often occurred and so mules were sometimes even used as interim cavalry mounts.
Being worked to death, being butchered for his meat, being slaughtered as an enemy asset, being abused in every way, shape and form, it is a real miracle that any mules survived the war.
AND NOW YOU KNOW !!!
The above articles first appeared in the ACWS Newsletter, December 2000
An advertisement in one of the trade magazines offered a copy of Saint Barbara's medallion in cast pewter for the very reasonable price of 8 dollars.
Saint Barbara has been well known for several centuries as the Patron Saint of Artillerymen and prayers to her are supposed to ensure protection from cannon fire, thunder, and lightning. The advertisement guaranteed the medallion to be very powerful indeed and stated that if the owner of their medallion were ever to be hit by a cannon ball or struck by lightning, the company would replace the medallion at absolutely no cost to the wearer!!!
SOME GUARANTEE HUH? - AND NOW YOU KNOW.
---
The battle lasted from only 3.30 in the afternoon until nightfall. At dawn the next day, a ghastly panorama of dead and wounded was revealed. Confederate burial details began the odorous job of collecting the bodies for their placement in "soldier's graves". Trenches about two and a half feet deep were dug in the unyielding soil and the Confederate dead were reverently laid to rest with pieces of blanket or oilskin covering their faces. If a dead soldier was identified, some kind of marker was placed at the burial site. The trenches were also marked to show the number of bodies it contained.
As the Confederates had "won" the battle, Federal dead were treated very differently. First they were unceremoniously stripped of any items that were of use and then they were tumbled into the trenches and breastworks they had died defending. A few feet of earth was then thrown on the bodies but no records were made of the site and no markers of any kind were erected. The burial details soon realised that this battle had been no ordinary battle, for the dead lay piled more thickly than in any other battle any of them had been in so far. The burial details were correct. Few other battles had cost so many Confederate dead for the few brief hours that this one had lasted. Judged by the number of dead per hour it was fought, this battle may have been the most sanguine of all. The number of dead was appalling and a Confederate General cried unabashedly as he noted that "one could walk on bodies all over the battlefield without one's feet touching the ground".
Officially, only 1750 Confederates were buried on the battlefield but many, many hundreds more were claimed by grieving relatives and removed for private burial. You see, most of the dead were Tennesseans and were soldiers of the Army of Tennessee fighting in their home state. After reporting their losses and gathering up everything of use from the battlefield, the dazed survivors formed their thinned out ranks and marched towards the next battle, which would prove to be the one that would almost destroy their army completely.
For now, however, each and every soldier was glad that the battle of Franklin was over.
AND NOW YOU KNOW.
The above articles first appeared in the ACWS Newsletter, October 1998