12. TRAIL - ARMS
Just as in Order - Arms, bring the musket to the right side until the butt is three inches from the ground. Tilt the muzzle forward slightly, making sure not to touch the soldier in front with the bayonet. The butt should be kept about three inches off the ground and the right hand held at the hip.
SHOULDER - ARMS
On SHOULDER, raise the muzzle until the musket is vertical. Then raise to Shoulder - Arms as if returning from Order - Arms.
13. RIGHT SHOULDER SHIFT - ARMS
With the left hand turn the musket lock to the front. Grasp the small of the stock with the right hand and place the musket on the right shoulder. Grasp the flat of the stock with the right hand across the top, then drop the left hand.
SHOULDER - ARMS
Lower the right hand and grasp the musket just above the lock with the left hand. Move the right hand up to the small of the stock and bring the musket to the left shoulder. Grasp the butt with the left palm and drop the right hand to the side.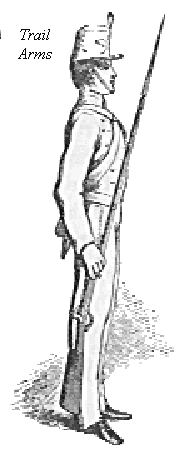 14. ARMS - AT WILL
The musket may be carried on either shoulder, holding it with one or both hands, the muzzle always up.
15. GROUND - ARMS
From the Order-Arms position, on the Arms command, turn the musket with the right hand so that the barrel is to the left. At the same time reach behind the back with the left hand and grasp the cartridge box. Step forward with the left foot and lay the musket on the ground, with the lock plate up and the butt next to the right toe. Rise up, letting go of the cartridge box, and assume the position of attention.